High-Performance

&

Multi-Functional

Underwater Productivity

Solution

FIFISH V6 EXPERT is a professional-class underwater robot and multi-capable tool for enhancing your underwater missions and operations. The V6 EXPERT can be equipped with an onshore power supply system that delivers optimal diving performance and operating time.
360° Omnidirectional Movement
Q-IF Multi-Tool Extension Interface
Onshore Power Supply System (Optional)
Multi-Tool

Extensions,

Unlimited

Possibilities

FIFISH V6 EXPERT's interface allows the efficient integration of a wide range of professional-level and industry-specific tools to tackle different scenarios and tasks.
Q-Camera
Real-time video feed and onshore control with multi-angle installation. Complement your main camera with the ability to record additional views and angles underwater at the same time.
2D Image Sonar
Identify, inspect, and locate targets in turbid and cloudy waters.
HDMI Box 2.0
Livestreaming capabilities for ROV operations, with real-time display and storage of images and footage into external storage devices.
Controller Sun Hood
Tablet holder with a durable sun hood, adjustable viewing angle, and large clamping range for a worry-free and unobstructed experience.
Sports Camera Mount
Rugged sports camera bracket that can be installed at the top or bottom, delivering a simple and convenient method to shoot in various angles.
External Lighting Mount
Flexible external lighter mount to assist with underwater missions and operations in dark environments.
Remote Control System
QYSEA's patented innovative edge computing box, allowing users to efficiently and conveniently operate their ROVs from remote locations at a distance.
Compass Ruler
Physically measure the size of different underwater objects as you explore the oceans.
Laser Scaler
High-precision laser for accurate measurements of underwater objects.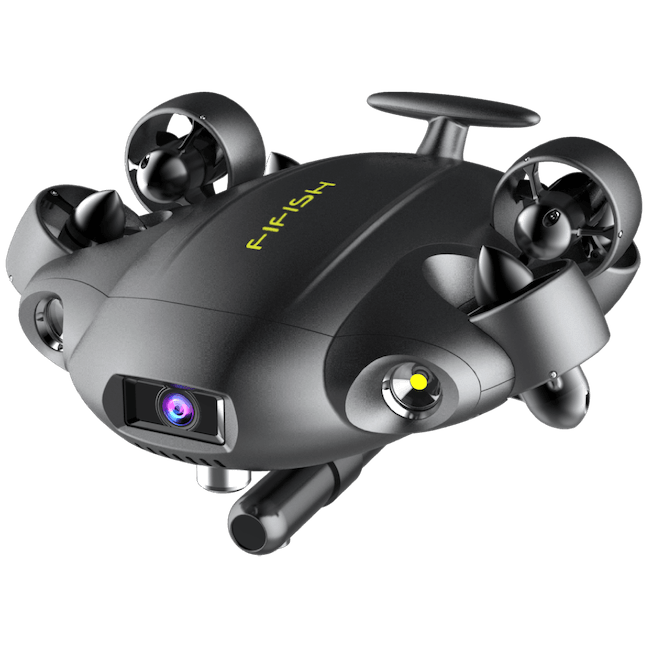 Distance Meter
Measure and identify the distance between the ROV and target object.
Altimeter
Measure and identify the height between the ROV and seabed.
Ultrasonic Metal Thickness Gauge
Evaluate the thickness of the steel on tanks, hulls, or other metal surfaces.
Hydrophone
Detect and record ocean and underwater sounds from all directions. Monitor the development of the marine environment, communication between aquatic animals, and more.
UQPS – Underwater Quick Positioning System (QYSEA)
Software and hardware eco-system providing the FIFISH's real-time ROV location, movement recordings three-dimensional diving path recordings, and more.
DVL (Station Lock)
Achieve accurate and steady position holds for your professional inspections and operations.
USBL – Ultra Short Baseline Locator
Identify, track and record data on the ROV's underwater position.
Robotic Arm
Compact size, durable with a 100N clamping force. Grab and salvage objects and items underwater with ease, efficiency, and strength.
Retrieval Hook
Rugged hook with a powerful clamp and lock function that withstands the weight and pulls of underwater objects of up to 200KG.
Mort Remover
Specially designed for aquaculture operations for removing and transporting deceased/sick fish and other elements away from fish farms or to onshore for further analysis.
Underwater Dozer
Specially designed for aquaculture operations to push and move. deceased/sick fish and other elements out of the fish farming spaces.
Fishing Net
Designed with environmental fishing and marine education in mind, providing the ability to catch hold onto fish across different types of waters without threat or damage.
Water Sampler (100ml)
With 100ml collection capacity and 150m sampling depth, collect various types of water in different underwater environments for your specific needs.
Water Sampler (500ml)
With 500ml collection capacity and 150m sampling depth, collect various types of water in different underwater environments for your specific needs.
Dissolved Oxygen Sensor
Monitor and record the level of dissolved oxygen in water contents.
Salinity Sensor
Measure the value of dissolved salt in the water.
Turbidity Sensor
Measure the amount of light that is scattered by the suspended solids in water.
pH Sensor
Measure the amount of alkalinity and acidity in water contents.
Mud Sampler
Retrieve and sample a wide range of underwater sediments on the seabed.
FIFISH V6 EXPERT –
Streamlined

, Robust &

Reliable

Design

360° protection of core components
See what
FIFISH V6 EXPERT

can do for you
Long Lasting

Power,

High

Performance &

Reliability
FIFISH V6 EXPERT
VR
Intelligent

Head

Tracking

FIFISH V6 EXPERT applies unique sensory controls that provide the user a truly immersive underwater experience from the ROV's first-person perspective. Through the smart VR goggles, take the QYSEA patented full 360° directional and posture control of the V6 EXPERT simply by rotating the head. This intelligent feature is accurate, easy to use, and a breakthrough in underwater exploration.
Micro
SD Card

, Fast

Transfer

&

Storage

The SD card can be taken out of the V6 EXPERT for data exporting with ease. The ROV comes equipped with a 128GB card for ample space and storage of high-definition films and images.
Light,
Portable

& Worry

Free

FIFISH V6 EXPERT helps your underwater operations be organised and worry-free. Its compactness allows for easy transportation to wherever your missions take you, and its efficient power system delivers you continuous and uninterrupted diving sessions.